WITH BABIES , PRECAUTION IS BEST
Every mother has cradled a feverish baby in her arms in the middle of the night, wavering between giving in to the urge to rush to the emergency room and trusting her mother's instinct to care for her child at home.  But she can't make the right call if she doesn't have all the information.  This is where precaution comes in.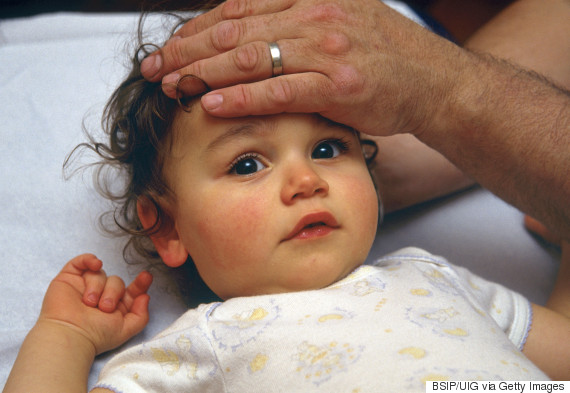 When you suspect that your baby is sick, there's no room for error.     
You need precision and accuracy to give you the assurance that you have all the information necessary to make the best decisions for your child. Purchasing a thermometer designed with babies in mind will help keep them safe and ensure you get an accurate temperature reading every time you suspect a fever.  Our thermometer will not let you down!
This Thermometer is perfect for everyday use in all houses over the world.  This non-contact body Infrared Thermometer is specially designed to take the body temperature of a BABY or ADULT regardless of room temperature.  Depending on various skin types and thickness, there may be a temperature difference.  When the indoor temperature is significantly different, the body infrared thermometer should be placed in that room for 10-15 minutes before using.
1、High Quality: In order to provide reliable results and ensure excellent performance, we apply updated high-precision sensor probes and the latest smart chips to the thermometer.  So the thermometer is faster, more reliable, and more secure to use.
2、Practical In Use: The thermometer features the high-precision infrared sensors, which makes it stable and reliable in performances, and the thermometer features the strong adaptability to ambient temperature, which can still be used normally in complex environments.
3、Wide Applicability: These digital thermometers are designed for all ages, adults, infants and the elderly.  Not only does it support forehead or ear function, it can also randomly obtain the surface temperature of any object and the temperature of pets.
4、High-definition Display: The thermometer features the LCD large-size liquid crystal display, high brightness with backlight, a clear and soft display, thus making reading easy.
5、Durable Design: The thermometer can be adjusted within the range of 3-5CM/1.18-1.97in(about) which does not require a fixed measurement distance.  And the thermometer features the quality of  excellent durability.
GRAB YOURS NOW !

Specifications:
Item type: Thermometer
Color: Purple
Material: ABS plastics
Accuracy(Body): 35℃-42℃ ±0.2℃
                Outside: 35℃-42℃ ±0.3℃
Accuracy(Surface): 32-42.9℃(Temperature mode) ±0.2℃
Measurement Distance: 10-30mm
Measurement position: Forehead center
Response-time: ≤2 seconds 
Auto-shutdown-Time: 15±5s
Pow-er-Supp-ly: D C 3V (2 * 1.5V AAA-Batteries(NOT Included)
Operating condition: 10-35℃, 20%-85% RH or less, 760 HPA-1060 HPA 
Package size: 180*120*50mm/7.08*4.72*1.96inches
Package weight: 161g/5.67ounces

Packing List:
1 * Thermometer
1 * Manual